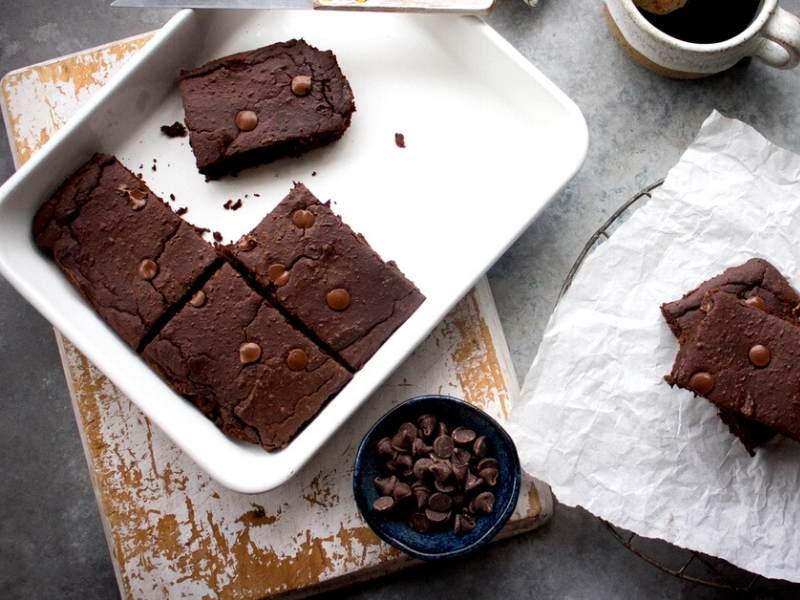 Black bean and dark chocolate brownies
3 minutes Published on June 30, 2021
Sweets & Desserts
Serves: 6
Prep: 10 min | Cook: 20 min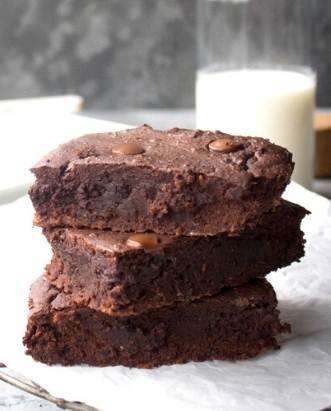 Ingredients:
Black beans, canned, drained, 1⅔ 400g can(s) (drained)
Rolled oats, raw, 80 g
Dark chocolate chips, 90 g, reserve 30g to top
Eggs, raw, 1 60g egg(s)
Olive oil, extra virgin, 3 tablespoon(s)
Reduced-fat milk, 2% fat, ½ cup(s)
Cocoa powder, ¼ cup(s)
Brown sugar, 2 tablespoon(s)
Vanilla bean extract, 2 teaspoon(s)
Baking powder, 1 teaspoon(s)
Sea salt, 1 pinch(s)


Method
Preheat a fan-forced oven to 180.
In a food processor or blender, process the oats into flour. Place to one side.
Combine the black beans and olive oil in the food processor or blender, and process until it forms a paste. You shouldn't have any chunks or whole beans left, as this will affect the consistency of the brownie.
Return the oat flour to the food processor, along with the bean paste, baking powder, sea salt, cocoa powder, brown sugar, egg, and vanilla extract. Process, slowly pouring the milk in until it forms a batter.
Meanwhile, create a double boiler by placing a glass bowl over a saucepan with a little water in it. Heat over a medium-high flame until the water is boiling. Add 60g dark chocolate to the bowl and stir regularly until it is melted. Once melted, slowly pour the chocolate into the batter and mix through.
Pour into a 20cm x 20cm square baking tray (or similar) lined with baking paper. Top with the remaining 30g of dark chocolate chips.
Bake for 20-25 minutes or until cooked through. Leave to cool before slicing into six even portions.
TIP: you will need almost 2x400g cans of black beans, drained, to yield 400g black beans for this recipe
Nutrition facts per serve
Makes 6 serves
Food units
Meat & Protein 0.5
Bread & Cereals 0.5
Vegetables 0
Fruit 0
Dairy 0
Healthy Fats & Oils 2
Indulgences 1
Nutrition facts
Calories 326
Protein 9.2 g
Total fat 15.2 g
    - Saturated fat 5.7 g
Total carbohydrates 32.7 g
    - Total sugars 14 g
Fibre 6.9 g
Sodium 750 mg