Get the support you need to reach your goals
Achieving total wellbeing takes the right kind of help, and our research shows that having a healthcare professional as a guide is key to success. That's why we've added Total Wellbeing Health Coaching Sessions to our online solutions, so you're never alone on your journey.
A weight loss journey tailored just for you
Your wellbeing is important to us. That's why our Total Wellbeing Health Coaches take a personalised approach to your health journey.
They're university-trained Accredited Practising Dietitians and respected members of Dietitians Australia, so you can trust them to provide top-notch support.
With in-depth knowledge of nutrition, weight loss, and behaviour change, they'll create a customised plan just for you that fits your goals and lifestyle for long-term success.
What can you expect from a Total Wellbeing Health Coaching session?
Our Total Wellbeing Health Coaches are committed to helping you achieve your goals. Every session is designed just for you and your lifestyle, so you can expect:
Personalised weight loss advice
Feedback on your progress
Strategies to maximise your lifestyle
Motivation and support to stay on track
Realistic guidance for weight loss and overcoming obstacles
Meet our Head of Health Coaching, Pennie McCoy
Pennie is an Accredited Practising Dietitian, member of Dietitians Australia and our resident Facebook Live presenter. Pennie has over 15 years' experience and talks to members every day about their questions, concerns and thoughts about weight loss, health, and wellbeing.
"Health coaching provides members with the opportunity to get personalised advice from a health professional who is fully qualified to provide nutrition guidance to use the CSIRO Total Wellbeing Diet. We offer accountability, support, and motivation to help you overcome barriers and challenges when it comes to improving your health and wellbeing. We're here to guide you to optimise your use of the program as well as finding solutions and strategies to achieve goals." – Pennie McCoy
Weight loss for wellbeing
Did you know that as little as 5% body weight loss can have a significant positive impact on chronic health conditions like high cholesterol, high blood pressure, type 2 diabetes, and joint pain?
Our chronic disease management plan, The Total Wellbeing Lifestyle Plan, includes 15 one-on-one Total Wellbeing Health Coaching sessions and past members of the program lost an average of 6.8% of their body weight and experienced life-changing health improvements, including:
Participating Health Funds

7 - 9%
blood pressure improvement

0%
cholesterol improvement
0.00%
reduction in pressure on joints

0.00%
blood glucose improvement
Inspiring Stories
ConsumerEnterprise
Joining the program probably saved my life, it certainly gave me my life back. I no longer live to eat, I eat to live.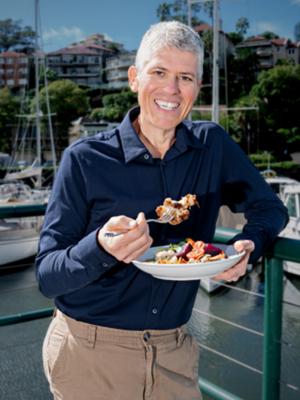 Terry lost 100 kg (220 lb) in 2 years* through the help of Digital Wellness and CBHS Better Living. *Individual results may vary.
Terry lost 100 kg (220 lb) in 2 years* through the help of Digital Wellness and CBHS Better Living. *Individual results may vary.