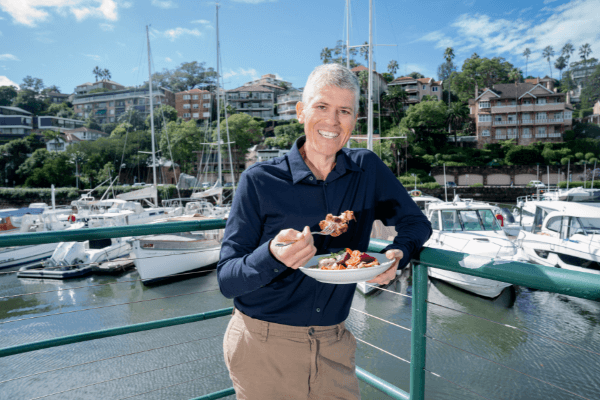 Terry lost 100 kg (220 lb) with the Total Wellbeing Lifestyle Plan
7 minutes Published on May 4, 2021
Tipping the scales at 185 kg (408 lb) when he joined the CSIRO Total Wellbeing Diet, Terry's weight loss journey has been nothing short of incredible.
Terry knew for years that he had to lose weight, but it wasn't until 2018 that he decided enough was enough. He joined the CSIRO Total Wellbeing Diet and in 2 years shed 100 kg* (220 lb).
*Individual results may vary. At the time of filming Terry had lost 80 kg (176 lb) in 18 months.
Weighing him down
At his heaviest, Terry's physical size presented many limitations on his day-to-day life. Walking small distances resulted in being out of breath, he was constantly worried about breaking chairs, he avoided photos, and he suffered with joint pain and high blood pressure. Worst of all - he developed prediabetes.
"I ballooned from 90kg (198 lb) in 2002 up to 185.5kg (408lb) in June 2018," he explained. "I suffered from postnatal depression after the birth of my first son, which I now realise was probably what triggered me switching off and not caring about my health".
"I wasn't exercising and I was eating poorly but I was sick of my overall decline in health and decided that I wanted to live longer and be happier. I had to take back control of my life".
Terry started researching weight loss online and discovered the benefits of high protein and low GI diets, which led him to the CSIRO Total Wellbeing Diet.
"I found the program was different to others. It was easy to follow and the food unit system really works for me as I can create my own meals from the recommended unit quantities and balance my protein across the day - so I always feel in control".
Slow and steady
Using the online program, Terry started steadily losing a kilo a week. After six months of diligent work, and a loss of over 20kg (44 lb), Terry decided to step up his weight loss effort, adding in exercise and joining our Total Wellbeing Lifestyle Plan through his CBHS Hospital Cover a weekly session with one of our Accredited Practicing Dietitians.
Not only has Terry's mental health improved dramatically since joining the CSIRO Total Wellbeing Diet and the Total Wellbeing Lifestyle Plan, but the health benefits have been huge. He is no longer prediabetic, his blood pressure is normal and his joint pain is gone.
"Since starting on the program, I have lost 100 kg (220 lb), which is over 50% of my body weight. I feel in control and I have more energy and motivation."
"Joining the program probably saved my life - it certainly gave me my life back".
Non-scale victories
It isn't just the numbers on the scale that keeps Terry going. For him, the non-scale victories are just as important.
"There are so many things I can do easily now that I simply couldn't before. I can walk further than 100m without feeling exhausted. I can put on shoes without losing my breath. I can sit on a chair without fear of breaking it. I can exercise with my kids. I can catch a plane without needing a seatbelt extension. Clothes actually fit and I can feel happy and proud to be in photos".
"One of my non-scale victories was to take my family to Dreamworld, which we simply never thought would be a possibility. So it was really special to be able to share that moment with my sons".
Looking forward
With the knowledge gained from our program plus the support of the member-only Facebook Group (where Terry is a very well-known and loved participant!), Terry feels confident that he will continue to lose weight - and keep it off.
"The Total Wellbeing Diet has really educated me, and I gained diet knowledge I never had before. I no longer live to eat, I eat to live. I am now in control of my food, rather than food controlling me".
If you are inspired by Terry and his story − we're here to help.
CBHS has partnered with Digital Wellness to bring you the Total Wellbeing Lifestyle Plan.
A 24-week lifestyle program that provides you access to the CSIRO Total Wellbeing Diet and 15 Total Wellbeing Health Coaching Sessions with an Accredited Practising Dietitia. Helping to give you all the tools you need to get your weight under control and your life back on track.
Depending on your level of CBHS Hospital or packaged cover and the health issues you face, the 24-week supported program could be fully funded.
*Individual results may vary.
All information contained in this article is intended for general information purposes only. The information provided should not be relied upon as medical advice and does not supersede or replace a consultation with a suitably qualified healthcare professional.