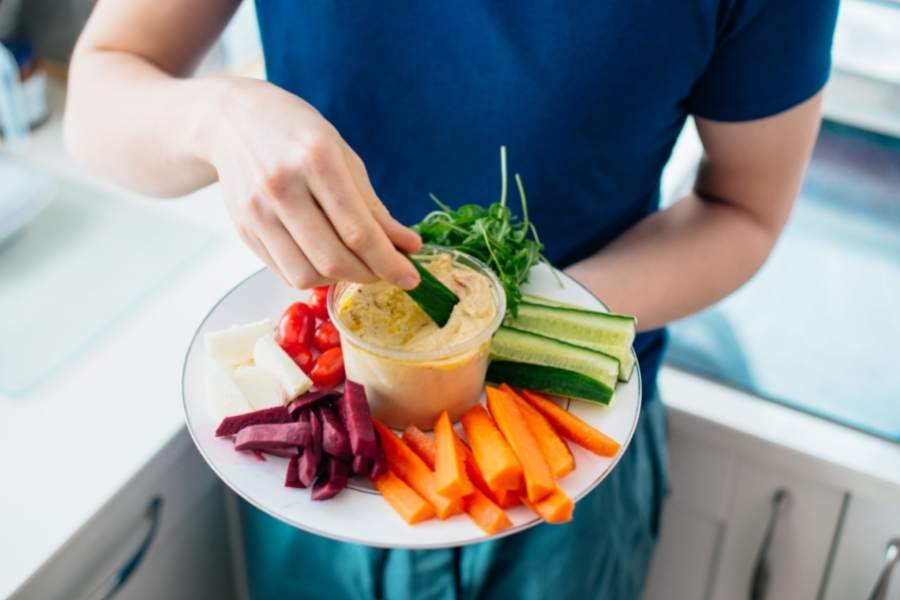 A Day on a Dietitian's Plate: Ali McIntosh
Published on March 17, 2023
A day that includes dark chocolate and raspberry bliss balls, a quick and easy lunch, and a nourishing soup is a day we can get behind!
See what a day on the plate looks like for Ali McIntosh, Accredited Practising Dietitian and CSIRO Total Wellbeing Diet's resident Personal Trainer. 
Breakfast
Weet-Bix with high-protein Greek yoghurt, milk, chia seeds, banana, peanut butter and honey
"Breakfast is my favourite meal of the day and I can't go past my childhood favourite: Weet-Bix. Not only is it delicious, but when it's combined with Greek yoghurt and milk it delivers the perfect combination of low GI carbohydrates, fibre and protein to start my day off right and fuel me for the day ahead."
Morning snack
Latte and dark chocolate raspberry bliss balls
"Late morning arrives and I am ready for my extra frothy latte and a little pick me up in the way of some fruit or delicious bliss balls."
Lunch
Wholemeal open sandwich with smashed avocado, boiled egg, cottage cheese and tomato
"Whilst it may not look pretty, and a bit more breakfast than lunch, these five ingredients make a delicious combo that provide me with all the healthy fats, protein, fibre and low GI carbohydrates I need to leave me feeling satisfied.
Other combinations include swapping the egg for tuna or chicken, avocado for mayonnaise, cottage cheese for low-fat tasty cheese or change the cottage cheese and tomato to ricotta and peanut butter."
Afternoon snack
Vita wheats with nut butter
"Perfect for the mid-arvo munchies to tide me over till dinner. Sometimes I'll add banana or a drizzle of honey to add a bit of sweetness."
Dinner
Flu-fighting ginger and leek soup with a wholemeal roll
"Packed full of veggies, fresh herbs and spices this is the perfect sinus-clearing and warming meal for this season! Instead of the roll, sometimes I'll add noodles, wholemeal pasta or pearl barley."
Evening snack
Fruit and high-protein Greek yoghurt
"Depending on what snacks I've had throughout the day, I will either have some yoghurt and fruit after dinner or enjoy some indulgent dark chocolate or dark chocolate bliss balls.
Sometimes I also enjoy unsalted, plain popcorn for a healthy way to satisfy those savoury crunch cravings. I just have to be sure to grab a handful or small bowl and put the remaining packet sealed shut, far, far away or else it can sometimes disappear!"
Proudly partnering  with leading Australian health funds to offer their members the benefits of a Total Wellbeing Health Coach
Offer your members the best scientific-based health programs
At Digital Wellness we have a range of health programs for every level of health cover. Whether it's an extra's benefit or hospital cover, we have the solution to provide your members. Providing world-class patient management, reducing complex claims costs and supporting your members through every step of their path to better health.
Contact us today to partner with us in empowering the wellness revolution.