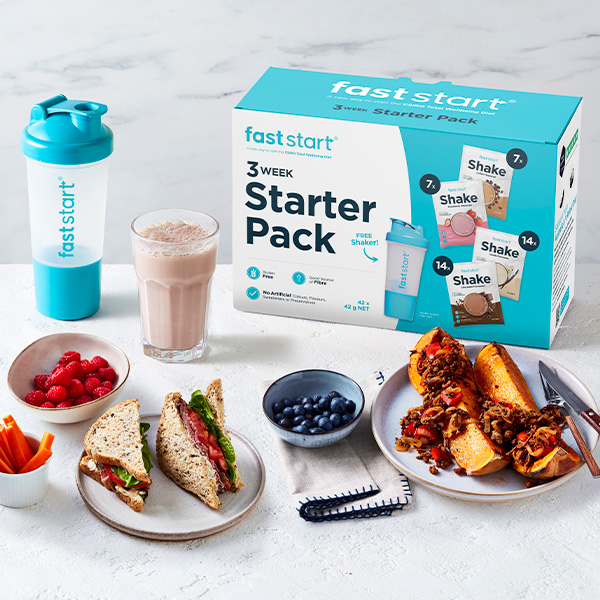 Say Goodbye to Cravings with CSIRO's Fast Start Program: A Sustainable Solution to Weight Loss
Published on January 15, 2023
Introducing CSIRO Total Wellbeing Diet's Fast Start Program
Fast Start is our new program that offers an alternative approach for members who are overweight or obese to make sustainable, safe, and healthy diet changes.
Cravings and Weight Loss: The Challenge
The CSIRO Total Wellbeing Diet's Fast Start program has been developed with a fresh approach to help clients overcome one of the biggest obstacles to successful weight loss: cravings. Recent research conducted by our partner, Australia's national science agency, CSIRO, showed that 66% of surveyed Australians reported difficulty resisting cravings while 82% believed it would be easier to lose weight if they could control their cravings.
The Study: Curbing Cravings with Partial Meal Replacement
With the aim of providing an alternative start to weight loss, the CSIRO conducted a follow-up study to explore alternative ways to curb cravings. Participants engaged in partial meal replacement for three weeks before transitioning to the CSIRO Total Wellbeing Diet's high protein, low-GI wholefoods program.
Results: Average Weight Loss and Increased Confidence
The study showed that participants who completed the program lost on average 4.1kg in the first three weeks through the use of meal replacement shakes, and 5.9kg after six weeks. Additionally, confidence in managing weight and resisting overeating increased by 19%, with 80% of participants reporting feeling better at controlling cravings by week three.
Sustainable Weight Loss with Wholefoods and Tools
The program includes access to a full suite of tools such as a food and exercise tracker, Positive Psychology tools, and a transition plan to move to a wholefood diet. With the vast body of scientific evidence supporting meal replacements as a weight loss tool, the Fast Start program provides a more sustainable weight loss journey by helping clients transition to a wholefoods diet.
Success Story: Danielle's Journey
The Fast Start program has already helped many people, like Danielle, who credited the program for her 12.2kg weight loss. 'The meal replacement shakes were easy, and I felt more confident not giving in to cravings because I was left feeling full. The transition to the CSIRO Total Wellbeing Diet was great because it allowed me a lot of freedom in my healthy choices. The tracker was such a vital tool to my success. This is just the beginning of my lifestyle change but Fast Start has helped me prove to myself that I can make changes and stay motivated,' said Danielle.
Proudly partnering  with leading Australian health funds to offer their members the benefits of the CSIRO Total Wellbeing Diet
Offer your members the best scientific-based health programs
At Digital Wellness we have a range of health programs for every level of health cover. Whether it's an extra's benefit or hospital cover, we have the solution to provide your members. Providing world-class patient management, reducing complex claims costs and supporting your members through every step of their path to better health.
Contact us today to partner with us in empowering the wellness revolution.