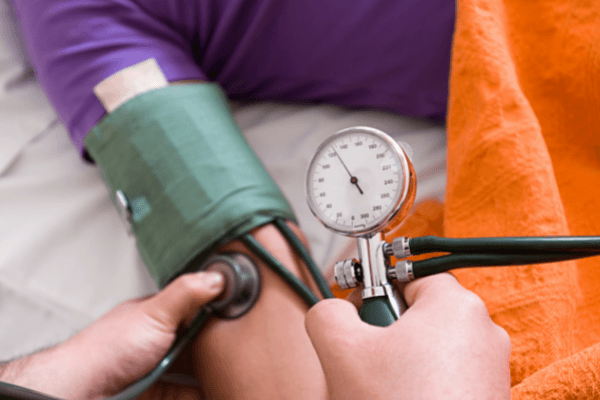 A closer look at High Blood Pressure and how we can help
5 minutes Published on May 20, 2022
What is high blood pressure? 
Blood pressure is the pressure generated by your heart as it pumps blood. This allows the blood to circulate around your body, down to your toes and back again.
High blood pressure is when the force of the blood flowing through your blood vessels is too high. It is sometimes called 'hypertension'. High blood pressure can cause serious health problems like heart attack, stroke and kidney disease.
If you have a family history of high blood pressure – that is, a parent or sibling who have been told they have high blood pressure before the age of 60 – you are more likely to develop it. Blood pressure tends to increase with age and there are often no warning signs when it gets too high, so it's recommended you get your blood pressure checked regularly.


How do we measure it? 
Lots of things influence the point at which blood pressure becomes a problem, and it varies from person to person. However, the National Heart Foundation provides some general guidelines: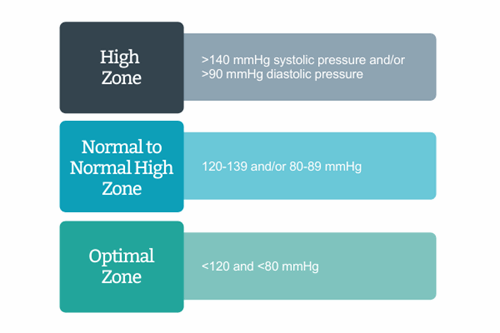 Theories and models of behaviour change 
These modifiable lifestyle factors contribute to high blood pressure:
Poor diet – in particular high salt intake
Excessive alcohol intake
Being physically inactive
Being overweight
Other lifestyle factors like smoking, depression, being socially isolated and lack of support are also risk factors for cardiovascular disease generally. Improving any of these can help, but small changes to a number of them together can have even bigger benefits.
Manging high blood pressure
There is strong scientific evidence that lifestyle strategies can help with managing high blood pressure, including:
Maintaining a healthy weight
Consuming a diet rich in fruits and vegetables
Lowering saturated fat and salt intake
Limiting alcohol intake
Diet recommendations
The National Heart Foundation recommends Australians follow a diet consistent with Australian Dietary Guidelines for the management of high blood pressure. Here's how:
Consume a varied diet rich in vegetables, fruits, wholegrain cereals, lean meat, poultry, fish, eggs, nuts and seeds, legumes, beans, and low-fat dairy products.
Limit foods containing saturated and trans fats.
Limit salt intake to less than 4g per day (approximately 1600mg sodium).
Limit alcohol intake to no more than two standard drinks per day.
Foods to include - 'The friends'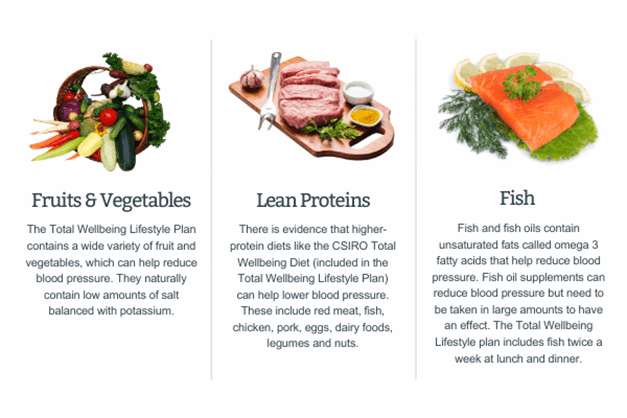 Foods to limit - 'The foes'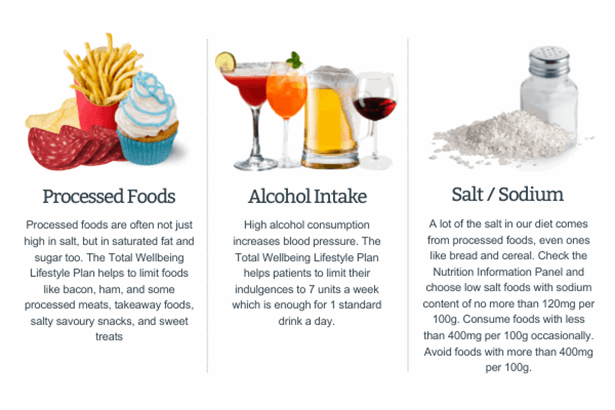 Try these flavour-enhancing salt swaps
When cooking, swap salt as well as bottled sauces (like tomato or barbecue sauce) for: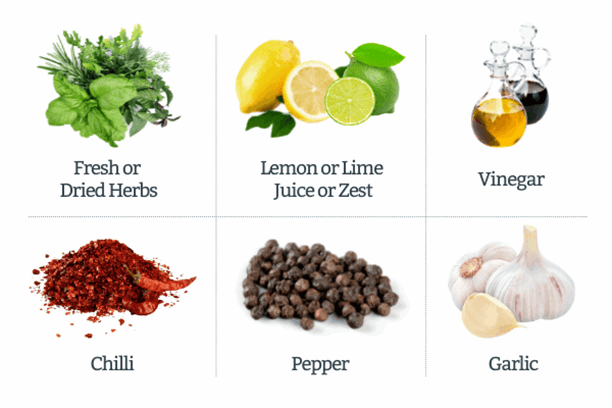 Choose low or reduced salt alternatives for tinned tomatoes, baked beans, sweetcorn, as well as tinned tuna and salmon. There are often low salt versions of condiments like tomato, soy and chilli sauces, canned foods and even packaged nuts. When your tastebuds are used to salt, low salt versions can take some getting used to but it doesn't take long to adapt – and your health (and waistline) will thank you for it.
Our Total Wellbeing Lifestyle Plan and high blood pressure
Studies have shown that losing weight and eating a high protein structured menu plan is an effective approach to weight loss and improving your blood pressure. Not only can losing weight help your members get (and keep) their blood pressure down, it can also help them to prevent the development of heart disease, stroke and other serious illnesses.
We've built the Total Wellbeing Lifestyle Plan to bring your members a digitally delivered accredited chronic disease management program that provides lasting and real results. It includes 24 weeks access to the scientifically formulated CSIRO Total Wellbeing Diet combined with 15 one-on-one telehealth Total Wellbeing Health Coaching sessions with an accredited practising dietitian.
Past Total Wellbeing Lifestyle members saw an average of 6.8% body weight loss and an average improvement of 7-9% in their blood pressure.
Learn more about the Total Wellbeing Lifestyle Plan and how we work with our partners here.